Bosnian Weapons Storage Site Pictures
Collection of Pictures taken at a Bosnian Weapons Storage Site during SFOR 10 in 2001/2002
Big thank you to the unnamed veteran who gave me permission to display his SFOR pictures here.
This is one very elaborate Serb Army VRS (Vojska Republike Srpske) Eagle carved into an M70 AK47 Rifle stock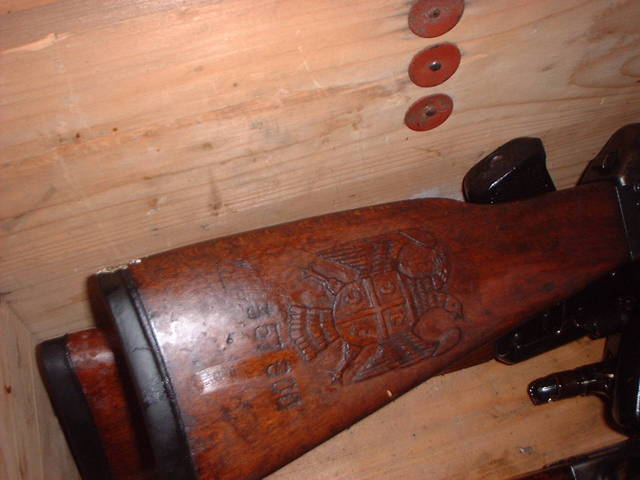 ---
And a few more pictures of other rifles from Bosnian Weapons Storage Site Inspections. Click on thumbnails for larger pictures
| | |
| --- | --- |
| Another good picture of the Yugo M 70 Assault Rifles. | A few M59/66 Yugoslav SKS rifles with grenade launchers. |
| Old German MGs. | A variety of bolt action rifles. I think one is a Swedish Target rifle. |
| PPSH Sub Machine guns and Yugo M56 Machine guns | And a Czech Skorpion Submachinegun Pistol |
Please Click Here for Texas Trading Post auctions on AuctionArms featuring original parts and accessories for Curio and Relic Yugo and Bosnian Rifles.
Back to Curios & Relics Home Page
All contents of this Web Page are Copyright (c) 2005 by Texas Trading Post, texastradingpost.com. All rights reserved.
texastradingpost.com (sm)