Infantry Rifles of Romania
The Mosin Nagant, VZ24, Romanian Sniper rifle, Plus other related accessories, links, and tidbits of information I have gathered.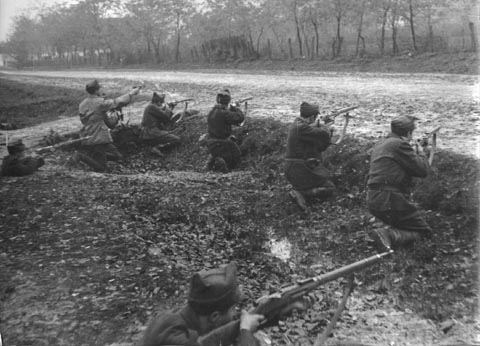 Picture above of unknown date and location showing Romanians with Mosin Nagant Rifles.
Post War Romanian VZ24 Mauser Sniper Rifle.
Rifle from my collection. Mount is original. Scope is a Zeiss Zeilmulti Variable Scope. Sling is an original of Romanian origin.


Ammo pouch of this type was imported with Mosin Nagant rifles from Romania during the late 1990s. This one had a Romanian Newspaper from 1971 stuffed inside of it when I received it.

Romanian dual compartment Oil Bottle used with the Mosin Nagant Rifles. Marked B U. B for Basa or Base and U for Ulei or Oil.


And yet another Romanian dual compartment Oil Bottle. This one marked U S. U for Ulei or Oil. Not sure on the translation of the S.
Above is a Romanian SKS rifle and a Russian Mosin Nagant M44 Carbine. Both shown pictured with a late 1960s to early 1970s SKS rifle sling. This would also be correct as a late Romanian issue for the M44 Mosin Nagant rifle. Romania used the M44 in later years than most other countries. For a great write up with pictures of sling manufacture or military markings see the Romanian section of the rifleslings.com website. Click Here.
Here is a really interesting receiver cover that showed up with a Romanian SKS rifle now in my collectioin. Cover is hand forged rather than just engraved.
Here a link to a great story featuring Romanian Sergeant Sandu Aurel's WWII War Memories from Worldwar2.ro. Just imagine, they were only allowed 5 cartridges per week during training. Click here for Sergeant Sandu Aurel - War memories
And another link from Worldwar2.ro listing other WWII Infantry Weapons of Romania. Click Here. Or get a cup of coffee and be ready to spend a while reading and looking around: WWW.Worldwar2.ro.
---
Please Click Here for Texas Trading Post auctions at AuctionArms featuring original parts and accessories for Romanian SKS, Mosin Nagant, VZ24 Mauser, and related military collectibles.
Back to Curios & Relics Home Page
All contents of this Web Page are Copyright (c) 2004 by Texas Trading Post, texastradingpost.com. All rights reserved.
texastradingpost.com (sm)